Election Week Order Flow – Same or Different?
As everyone knows, tomorrow is the election.
Brokers have done the sensible thing and reverted
intraday margins to exchange initial margins.
A lot of "YouTube Traders" are saying they won't
be trading this week because … just because?
Because they think the market is going to be even
more volatile than normal? Where have they been the
6 months?
Prior to 2020, if the VIX was trading in the 20's that
was considered high. Now when the VIX trades into the 20's
that is considered low.
In reality, over the last few years, market conditions
have clearly been volatile which made reading the order
flow trickier for traders as moves often became exaggerated.
In order to help traders understand the market conditions
we have refined the tools we have for reading the order flow.
Some of the new tools we recently added to the Orderflows Trader
gave traders excellent clues of market direction. Here is a partial
list of the new tools we have added to the Orderflows Trader:
Value Area
Value Area – EVA
Orderflows Sequencing
POC Slingshot
Let's take a look at the order flow this morning
in the ESZ0 right after the cash open: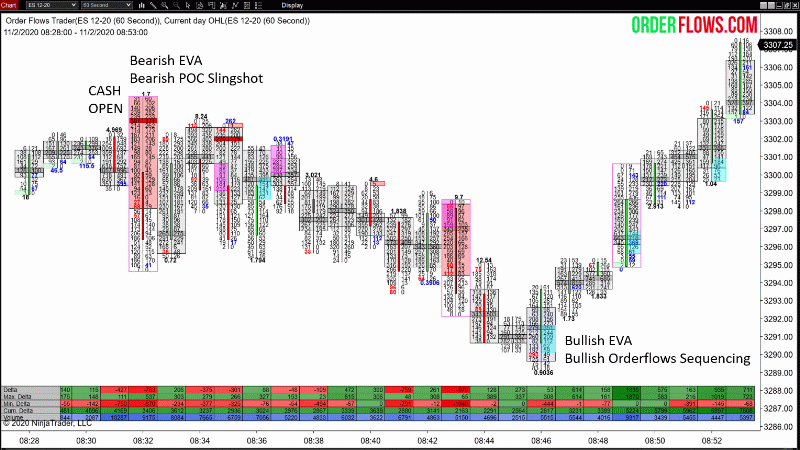 One of the new tools we created involves the Value Area in
a bar. Value Area is where 70% of the bar's volume trades.
The Orderflows Trader highlights to traders potential changes
in value by highlighting bearish Value Areas as red and bullish
Value Areas as blue. There was also a bearish POC Slingshot right
after the cash open and in the same bar as the bearish Value Area EVA.
At the swing low, there is a bullish Value Area EVA and a bullish
Orderflows Sequencing.
Later this morning, after the high at 3323.50 was made, the market
started to move sideways. But in that sideways move there was a
bearish sign in the Value Area, which was highlighted in red. More
importantly, there was another sign in the order flow which was
highlighted with the Market Weakness Detector (the big orange arrow
down). There was also bearish Orderflows Sequencing after the high
was made and as the market was trading sideways.
Our goal in creating the Orderflows Trader was to give traders a tool
to better understand what is happening in the order flow.
If you want to learn more about these tools and how to apply them to
the market to help improve your trading go to:
https://www.orderflows.com/oft3.html
Order flow gets you as close to what is happening in the market as possible.
It will be interesting to see how the order flow develops Tuesday night into Wednesday morning. Don't forget it is also a FED week.