Trading The Overnight Session – Don't Quit Your Day Job Yet

I could never understand why people think that trading futures in the overnight session is a bad or scary thought? Or that you have to disregard the overnight session completely. That is just wrong and short sighted. Some markets like the ES have very good volume once Asia opens and once Europe opens. If you look at a 15 minute chart you can see how liquid the market really During Asian hours the volume can range from 1000-2500 lots every 15 minute period. During European hours the volume can easily double to 2000-5000 lots every 15 minute period. That is liquid enough to trade.
You have to remember a lot of US futures markets that trade overnight are traded against their European counterpart by guys and gals sitting in Singapore, Dubai, Frankfurt, Dublin and London. People trade the ES against the Nikkei during Asia. The ES against Eurostoxx in Europe. The TY against the Bund. CL against Brent Crude. There is liquidity for a retail to trade the night session.
I think the reason so many self-taught and self-proclaimed trading gurus have steered their students away from trading the overnight session is because their magic "system" did not work.
It is not uncommon for a market to make its high or low for the day during the night session. This will sound cliché but the markets are truly global. What happens in Asia spills over to the European session and then into the US session.
All the major hedge funds trade the overnight sessions and believe me, they have much more firepower than you or me. Hedge funds routinely get into and out of positions in the overnight session. Of course they don't move as much size as they might during day session, but it is not uncommon for them to put on positions of 500 – 700 lots overnight.
So there is no reason not to look at trading this session if you are a retail trader with our 1 lot to 10 lot order. With that in mind let's look at last night's ES session to see if there were any good trading opportunities.
Just after 7pm Chicago time, which is 8am in most of Asia and the opening of Equity markets in Japan. The ES make a high with strong buying at 1942.00. The market shot right up in what looks like a stop run. There was a big resting limit at 1942.00 and 222 lots traded there in a buying imbalance before the market just dropped back to the 1939 – 1940 level. About 30 minutes later, nearly the same thing happened. The market spiked up to 1942. This time 152 lots traded at 1942.00 in a buying imbalance Interestingly 30 minutes later, the market made another run at 1942 but couldn't quite make it there. It made it only as high as 1941.75 where only 1 lot traded. A SMALL PRINT. Immediately under the small print was a buying imbalance of 90. It was almost like traders wanted to take it higher as evidenced by the buying imbalance but then only 1 lot traded at the high of 1941.75 which tells me that there was just no more buying interest. The market then turned around and sold off 7 points.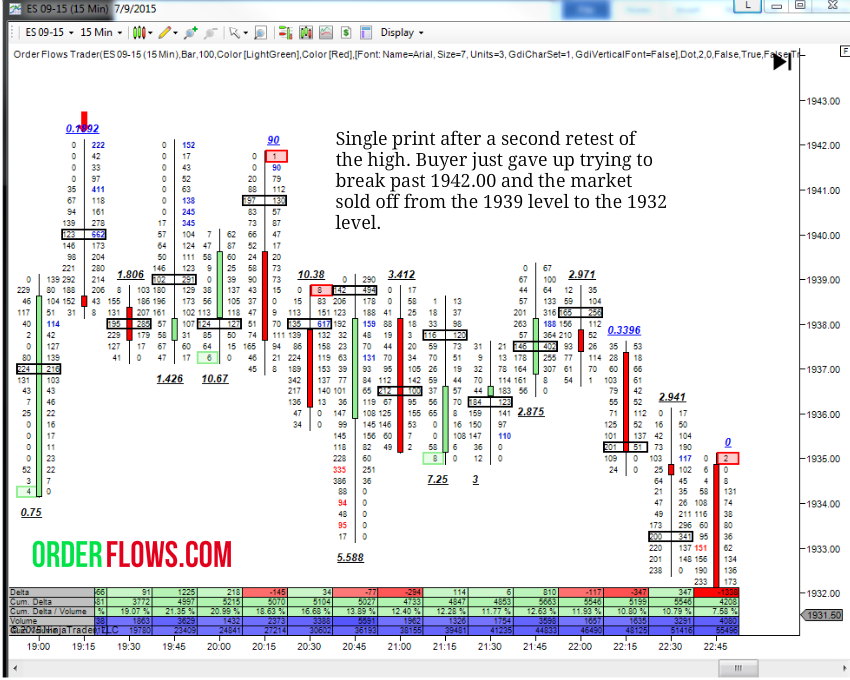 Opportunities like this occur almost every day.
So if you just want to start slowly into trading, you should look into the overnight session as a possible way to trade while still holding down a regular job.
You don't need to quit your day job just yet! I am not sure if that is a good thing or a bad thing for some people though…