Using Orderflows Trader On Foreign Futures Markets

What happens in Asia, stays in Asia. Well, not really. The ES is one of the most traded futures markets on the planet. But there are many other futures markets that are perfectly acceptable to trade using order flow analysis.
I have a soft spot in my heart for Asian products due to having lived in Asia for 10 years. The Nikkei on SGX and Osaka are great products for traders in the USA who can't trade during the day because they have fulltime day jobs.
One of the 'concerns' retail traders have is about liquidity. They see the massive liquidity in the ES and any contract that doesn't exhibit the same liquidity they write it off. To that I say, c'mon. At most you are trading 5 or 10 lots, you don't need 250 lots a side and 1000 lots stacked in the order book.
There are small hedge funds, capitalized between $5 million and $50 million that just trade the SGX and Osaka Nikkei futures and options and Japanese equities. There is ample liquidity. Add to that, Osaka has a mini Nikkei futures contract that does decent volume as well.
The same order flow ideas that are used in the US futures markets also work with Asian and European futures markets.
Here is a chart of an SGX Nikkei trade from Monday Sept. 14, 2015. The market was making new lows and I was waiting for the right opportunity to jump in and go long. An Orderflows Buy Divergence setup appeared and I tried to get in at 17820 but I missed it and I ended up paying 17830.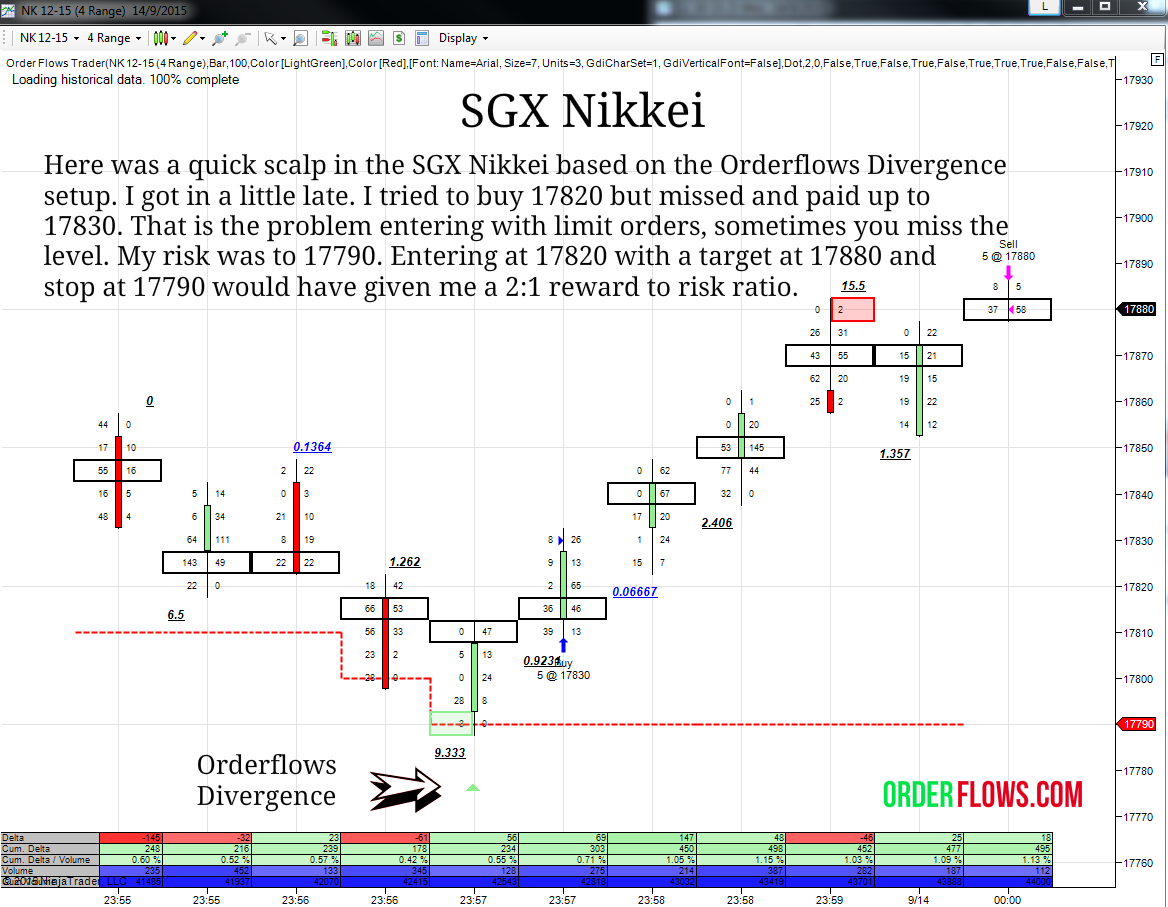 From the point of getting in at 17830, the position barely went against me. It did tick down to 17825 though. But I was never taking any heat. The market just shot up to and through my target at 17880.
My point is that there are many different futures contracts trading around the world. A trader doesn't have to think of only trading the ES.
In Europe there is the Eurostoxx, Dax, Ftse and Cac.
In Asia there is the Nikkei, Topix, Hang Seng, Kospi and Taiwan Index.
If you are into interest rate trading, Europe has the Bund, Bobl, Schatz and Gilt. Asia has the Japanese Government Bond also known as the JGB.
Of course you can also trade the ES during the evening session too. It is liquid enough most of the night.
Check with your broker to see what overseas futures products they offer. You might find one that suits your trading schedule.
Happy Trading.