Chinese Take-Out: Trading The SGX A50 Futures With Orderflows Trader

For years, funds have wanted a way to trade the Chinese markets. Although there is an index futures contract traded onshore in China, the CSI300 futures, it is only available to Chinese citizens or entities. It is not open to outsiders.
The normal route for traders to have exposure to China is through the HKFE H-Shares futures and the more loosely correlated Hang Seng Futures. For many years this was the way a fund can trade their view of the Chinese market.
A few years ago the SGX came up with the A50 futures contract which is the only offshore futures contract based on the China A Shares market. It trades in Singapore and is CFTC approved so US citizens can trade it. The trading hours are 9:00am to 3:25pm Singapore time for the main session and 4:10pm until 2:00am (next day) for the T+1 session. It is denominated in US dollars, so there is no currency conversion required.
Here is a trade I took in the A50 futures today. The market had been trading lower, making new lows and then rally a little before making a new low. When it hit the low of 9265, it bounced and hit it again but didn't make a new low, a buying divergence appeared and buying came in as can be seen in the buying imbalances. I didn't want to get long and have the market make a new low on me, so I waited for more buying to come in so I could be confident that the low was going to hold. I got long at 9300 and the market just shot straight up to 9842.5 where it a selling divergence appeared and selling imbalances started appearing. I wanted to see if the high was going to hold or if it was going to pop higher.
I took two screenshots to show the trade because the A50 can move very far.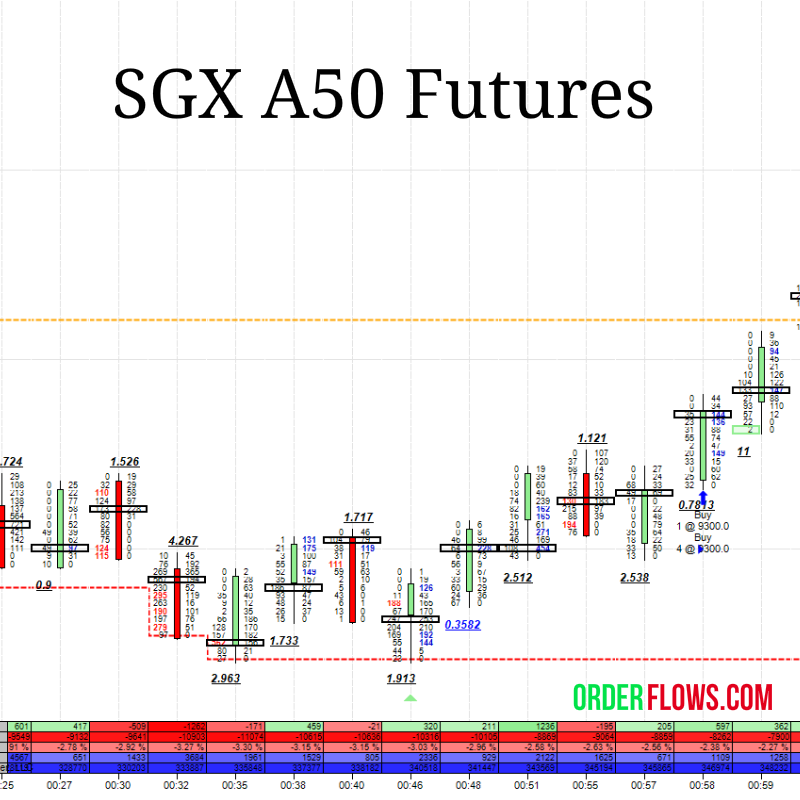 The market sold off from the high pretty quick and I was hoping to get out at 9800 on a bounce. But it wasn't going to happen and I eventually put in a limit to get out at 9750. I was able to get 450 ticks which sounds like a lot but the reality is it is a small contract. How much was the move worth? $450 per contract.
One point is worth $1. But the minimum tick movement is $2.5 or 2.5 points. For example it will move from 9200 bid / 9202.5 offer then 9202.5 bid / 9205 offer. As a result it has a small notional value. Today it was trading 9700, so its notional value was $9700. For comparison the E-Mini SP futures has a notional value of $98,500 per one lot when it is trading at 1970.
All that being said, why should a retail trader even consider trading the SGX A50? It's the volatility! It can move like a banshee, much the way the Hang Seng futures can move. Blink and its jumped 10 points. Having good entry points is essential to this market, because it starts to move, it can move fast and far. It can have a daily range of 700, 800 or 1000 points. There are enough trading opportunities in day when a market has a big range like that.
Here are a couple of recent articles on the sudden surge of the SGX A50 contract:
http://www.bloomberg.com/news/articles/2015-09-15/china-brokers-shut-out-of-own-futures-market-turn-to-Singapore
http://www.bloomberg.com/news/articles/2015-09-02/china-tightens-index-futures-trading-as-stocks-dip-before-parade
I lived and worked in Singapore for 10 years and the one thing I can tell you is that Chinese love to gamble. They are risk takers by their nature. Even when I was living in Chicago and I would venture out to the riverboat casinos in Indiana most of the people gambling were the staff from Chinese restaurants. So a good portion of the volume is retail traders essentially gambling. But the other portion of trading is actually done by institutions. Yes, institutions are active players in the SGX A50 futures. That's good. You don't want a market that is going to be bullied by retail traders.
Asian markets are unique in that they are pretty much the last markets that still observe lunch breaks. The futures still trade during lunch break , but the cash markets are closed. Hong Kong has even been trying to slowly do away with their lunch break, but as a broker that is the time to visit your clients, so there has always been push back. But roughly from 11:30/noon time the volume and movements can dry up until about 1pm.
So you are probably wondering why you should trade the A50 futures over another futures contract like the ES. The moves are fantastic and get the heart racing that's for sure. If you are living outside of the USA and are looking for a market that has good volatility this is a candidate for you. Maybe you can't sleep at night or have a day job and want to trade at night. It really comes down to your own reasons.
At any rate, whether you decide to trade the SGX A50 contract is up to you.
Orderflows Trader helps you understand futures markets all over the globe as the principles are the same. Orderflows Trader lets you look at the market objectively and make high probability successful trades.